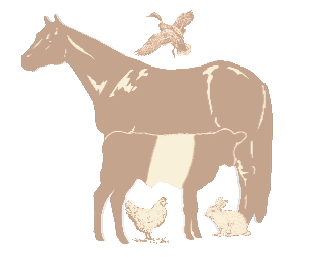 Racing & Performance-Bred Horses
Quarter & Paint Horses bred for:
Beauty, Power & Speed...


Producers of:
Chickens, Heritage Turkeys, Ducks, Guinea Fowl, Meat Birds, Fertile Eggs

Bred for:
Show, Pet, Meat & Natural Raw Pet Food

Quality wholesome cattle in
miniature size for Show, Pet, Meat & Milk





Odyssey Ranch breeds, raises, and offers for sale a variety of poultry, livestock and horses. We take great pride and devotion in the quality of animals we offer, as well as the care we put into them.








We are an NPIP Certified family owned and operated Poultry Hatchery selling a variety of poultry for people looking for egg and meat production, pest control, snake deterrents, backyard hobbyist, organic growers, chick production or just simply ornamental yard art. We concentrate mainly on the breeds of poultry that are hearty, as well as productive dual purpose birds. Many of our breed varieties conform with the guidelines set forth by the APA (American Poultry Association) standards. These standards will allow for many of our birds to be shown in sanctioned show rings as well as used for breeders to keep many of these heritage
breeds flourishing.

We are also an ARBA (American Rabbit Breeders Association) registered facility. We raise assorted breeds of rabbits for many uses including, but not limited to show, pet, hobby, meat, organic farming, production and pet food. Many breeds of our rabbits are pedigreed and we breed for the smallest breed of rabbits to the very large, Flemish Giants, and many breeds in between.

We offer our animals for sale to the public via walk-in customers as well as shipped chicks, feed stores, commercial vendors and breeders. We also cater to the youth 4Her's
and FFA students, as well as the independent novice.


Odyssey Ranch specializes in Quarter Horse racing & performance, as well as Paint performance bloodlines. Though concentrating on racing and performance, we are dedicated to breed

'tried and true'

bloodlines, that will not only physically perform in any forum, but have the temperament, disposition and intelligence to excel in all aspects of horsemanship.


We offer Quarter Horse and Paint Stud Service, Boarding and Lay-ups, Horses for Sale and Transportation. We have a GUARANTEED color producer of Palomino and Buckskin Paint/Pinto foals. Our race-bred stallions carry the bloodlines of "Chicks Beduino", "Dash for Cash", "On A High", "Lanes Leinster", "Easy Jet" and "Go Man Go" to name a few.

A few years ago, Odyssey Ranch was in a position to acquire a small herd of miniature cattle. We discovered that these cattle

are ideal for small acreage, efficient feed converters, docile and easy to handle, kept on as little as an acre, can be as small as 36" at maturity, easy on facilities and equipment, easy on the land and pasture. We had a great amount of interest in them. Although the demand of the miniature cattle is greater then the supply we can produce, we plan on relocating to a larger facility where we will be able to increase our herd size and be able to supply a greater number of people with these wonderful miniature animals which have so much to offer.


Although Odyssey Ranch has diversified to offer more services and types of animals to our customers, make no mistake to think that any of our quality of service or animals are diminishing. In today's economy, diversity is the key to success and along with that, quality of stock and service is the glue that holds a successful business together. Once a person has the reputation to offer quality products at a reasonable price, success can be measured by the amount of returning customers over and over again, and those customers referring over new customers.

Please feel free to browse our website for more information about us, the animals we breed, raise and sell, and the services we offer.












HOURS: We are currently open by APPOINTMENT ONLY during our relocation and settlement period. Please call us to set up your appointment! Horse viewing after dark is NOT recommended as we do not have sufficient lighting for that purpose.


We greatly appreciate your business and strive to make our customers happy. However, due to recent safety concerns AND for the health and safety of our animals, we
NO
longer give tours of our ADULT chicken and poultry facilities to the public. We will continue to show our stallions, sale horses and animals for sale to prospective customers. You are always welcome to bring your families and children, but please keep track of your children at all times and DO NOT let them run loose on the property. We are not a petting zoo. We hope these measures will keep our animals and customers safe and happy.
Thank you,
Odyssey Ranch







Here at Odyssey Ranch our customers are very important to us. You will find a friendly, relaxed atmosphere. We take pride in the fact that we have many return customers. We believe in truth and honesty. If you visit or have dealings with Odyssey Ranch, we will make sure your experience is not rushed, show you around leisurely, patiently answer all your questions to the best of our abilities, and you will leave our ranch with a positive experience. Even though we are not a large ranching facility, we take pride in our animals and the care we provide them.







Odyssey Ranch
has
CLOSED
its California Facility
& has relocated to Shamrock, Texas. Because of this relocation, Odyssey Ranch will NOT be conducting business for a couple months.





We are located in Shamrock, Texas, about 1 1/2 hours east of Amarillo and 2 1/2 hours west of Oklahoma City on Interstate 40 in the Texas Panhandle.